Off the Shelf: A Pictorial History of Horror Films
---
Knowing the rules of horror will keep you alive
Most horror fans can pinpoint the precise moment they fall in love with the genre: a channel flip in the wee hours of the morning, a particularly good Halloween party, or maybe a fortuitous garage sale find. 
Print media was the gateway in pre-Internet days, and when horror became a big business in the 1950s and '60s, there was no shortage of reading material — see Screen Thrills Illustrated, Castle of Frankenstein, and perhaps the most well-known, Forrest J. Ackerman's Famous Monsters of Filmland — to provide history and context for a seemingly unending parade of ghosts, ghouls, and maniacs. 
One particularly seminal tome was British film and comic historian Denis Gifford's A Pictorial History of Horror Movies, published by Hamlyn in 1973. The large-format hardback of just over 200 pages (illustrated throughout with more than 350 stills and posters) promised the "Raven"-loving reader "a hair-raising journey down the highway of horror" where "no stones are left unturned and the long lost rise up to snarl and smirk beneath the dusty beam of the projector."
The book seems to have made a splash on two very different horror directors who chose to feature it prominently in their films, both of which have children at the front and center: Nobuhiko Obayashi's brain-melting House, and Doug McKeown's sci-fi horror splatterfest The Deadly Spawn.
House (1977)
In House, a group of young girls with descriptive names like Gorgeous, Prof, Kung Fu, Sweet, Melody, Fantasy, and Mac are on a summer getaway at a countryside mansion. Not long after they arrive, strange and terrible things begin happening: a piano eats one of them, a housecat shoots lasers out of its eyes, and a watermelon becomes a severed head. In an early scene when the girls board a train to the country, a copy of A Pictorial History of Horror Films is placed conspicuously on one of the seats.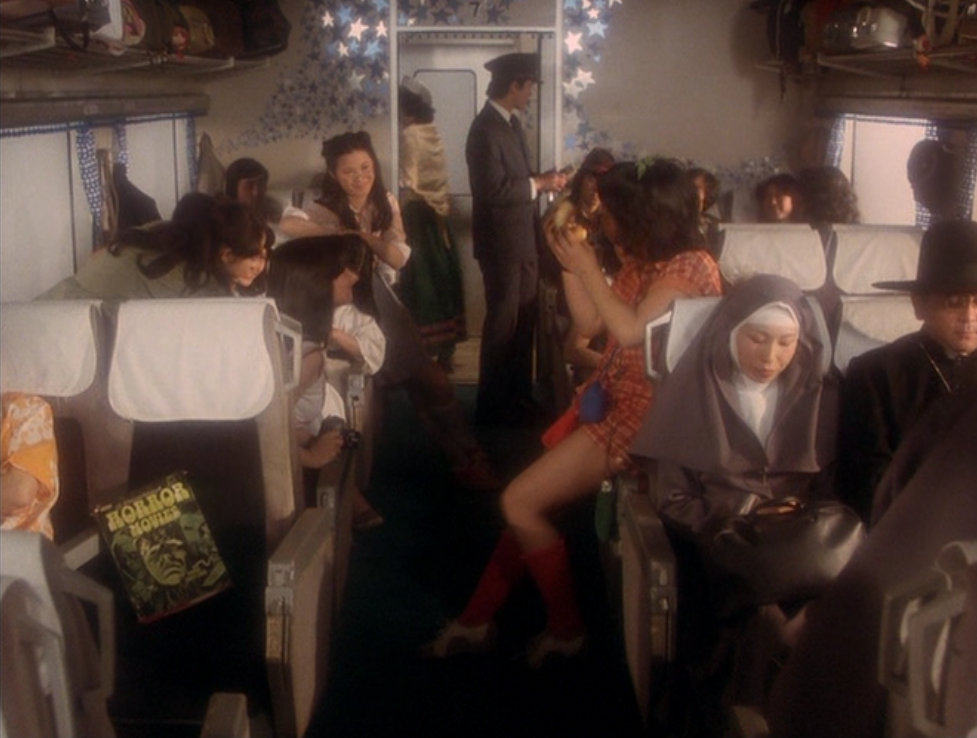 Tasked by Japanese production company Toho with creating a film to follow the success of Jaws, Obayashi, a commercial director in Japan, turned to his 10-year-old daughter Chigumi for influence. The result is a hallucinogenic nightmare pulled directly from the brain of a child: there are no rules, and no one is safe. With the book having been released only 4 years before the film, it's a safe bet that Chigumi was pouring over the pages, letting her imagination run wild.
The Deadly Spawn (1983)
Though both of these works are rightfully celebrated as genre masterpieces, their placement of children at the center of their stories makes them something special. 
In The Deadly Spawn, the titular spawn crash to Earth in a meteor and make their way to a nearby suburban home, where they take shelter in the basement and quickly make mincemeat out of everyone in their path.
One of the residents of this home is a young horror and sci-fi fan named Charles (played by Charles George Hildebrandt, son of legendary fantasy artist Tim Hildebrandt), who has a copy of A Pictorial History of Horror Films on the floor of his bedroom.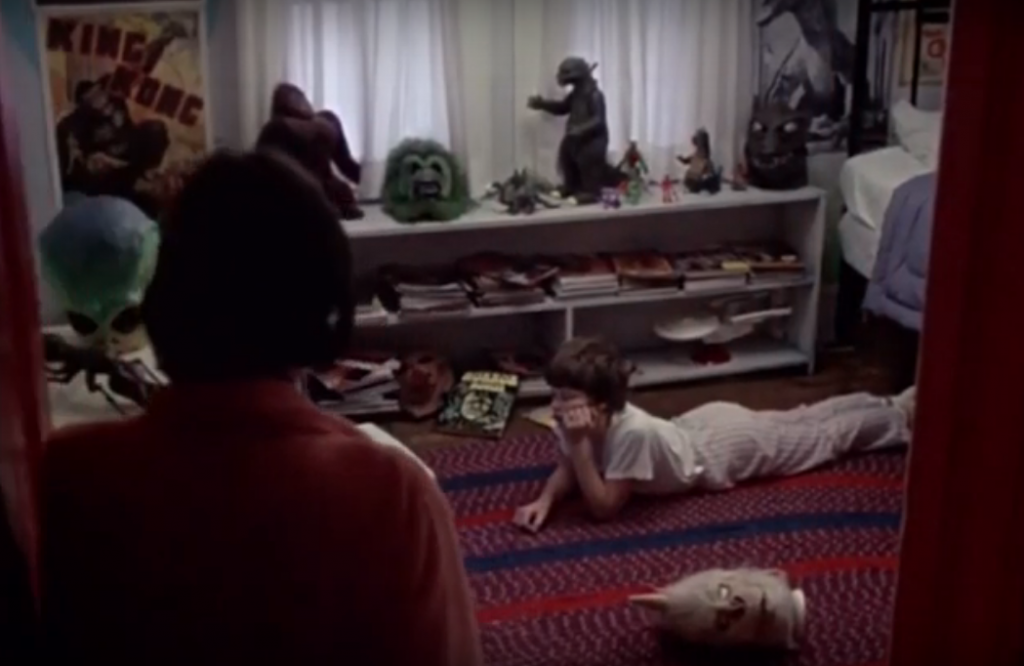 Charles typifies the pre-teen science-fiction and horror fans of that era: he uses props and gags from the ads featured in his monster magazines to play pranks on his family, terrorizing them at all hours. He quizzes his older brother Pete about the proper etiquette for dispatching certain monsters, and is given the third degree from his uncle about his obsession with all things blood and guts. 
Charles has committed the rules of genre to memory and takes them very seriously. He makes a point of reminding Pete — who is studying to be a scientist — that he used to know these things, but Pete's academic pursuits have pushed this information out of his brain to make room for hard facts.
Real world logic and reason can't help anyone when true horror comes to town. At first, Charles's reaction is the same as anyone else gripped in a cold panic, but when he starts treating the invasion like the movies chronicled in A Pictorial History of Horror Films, he's able to defeat the monsters (at least until the final moments of the film reveal the true fate of mankind).
However, it wasn't McKeown's hand that placed that book on set. "A lot of the set dressing was already in place because that was actually Charles Hildebrandt's bedroom and his whole family were sci-fi/horror/fantasy fans, so the book may have belonged to him," the director reveals. 
"The book that was important to me as a youth was a 1958 French title, Le Fantastique Au Cinema, by Michel Laclos," McKeown says. "In 1958 the only other source for photos of these films was Famous Monsters of Filmland, and that publication I did choose to place in the movie, with its own closeup! The Laclos book, which my aunt bought for me in Paris, had plate after plate of photographs from the silent period on up. They're all familiar pictures now, but not then! The only problem was the text was in French, but I used those pictures to help come up with some of my earliest makeup creations." 
Books like A Pictorial History of Horror Films provide not only a wealth of imagery but a source of concrete information. Online sources of information can conflict or be re-edited on a whim. Tangible items offer up no such flexibility — only history and context — and so for many remain the final word on the subject. 
Hey, while you're here ...
We wanted you to know that The End Run is published by Endcrawl.com.
Endcrawl is that thing everybody uses to make their end credits. Productions like Moonlight, Hereditary, Tiger King, Hamilton—and 1,000s of others.
If you're a filmmaker with a funded project, you can request a demo project right here.
Next Post
Reading
Frame Guides: Madeline's Madeline
Knowing the rules of horror will keep you alive.